PORSCHE MASTER 419 with trailer
Product code:

4.20101

SKU manufacturer:

8594988 20101 3
One of the most elegant tractors of the 1950s, produced by the famous car company. You can now have it at home in a discounted set with a trailer. Sure, not the real thing, but a working Czech sheet metal tractor for sure!
Detailed Description
Detailed description:
The movement of the tractor is provided by a unique spring-loaded machine pulled by a key. The transmission has 3 speeds forward, neutral and reverse. The tractor can actually be steered by the steering wheel and also braked with the handbrake.
Detailed description of the trailer
Can be attached to any KOVAP tractor. Folding rear front.
100% Czech product
Beautiful craftsmanship
"Safe Toys" certificate
Scale 1:25
Tractor dimensions: 16 x 9 x 9 cm
Trailer dimensions: 15 x 8,5 x 8 cm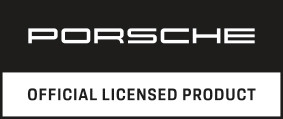 Porsche, the Porsche shield and the distinctive design of Porsche cars are trademarks and trade dress of Porsche AG. Permission granted.
How to do it: Pull the parking brake, insert the key in the hole in the right back wheel, pull clockwise until you feel stronger resistance.
Place the tractor on the ground, gear any speed you want, adjust the driving direction with the steering wheel and release the parking brake. The speed (direction of travel) varies according to the gear selected.
Warning!
Never wind up the mechanism to the left and do not tighten it up, it could be damaged.
Recommendation:
By following these tips, you can enjoy and have fun with our tractors much longer.
EC type-examination certificate No. 17 0392 T/NB
Product reviews
Product has not yet recieved any reviews. Be first!